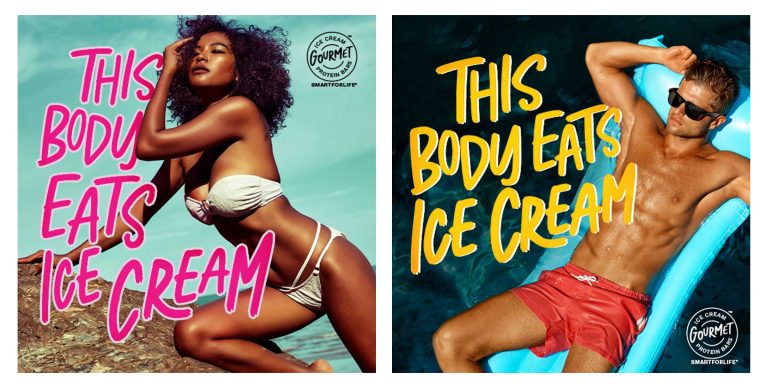 Category-Defining Next Generation Ice Cream Formulas High in Protein and Fiber, Providing Sustained Energy on the Go
Campaign Theme: "This Body Eats Ice Cream!"
Miami, FL – April 25, 2023 – Globe Newswire – Smart for Life, Inc. (Nasdaq: SMFL) ("Smart for Life" or the "Company"), a high growth global leader in the Health & Wellness sector marketing and manufacturing nutritional foods and supplements worldwide, today announced that it is launching an innovative line of proprietary and healthy high protein ice cream bars, representing a completely new functional food product category for the Company. The R&D initiatives behind the products were spearheaded by Dr. Sasson E. Moulavi (Dr. Sass), Chief Medical Officer of Smart for Life.
Smart for Life's category-defining new line of protein ice cream bars is formulated to be high in protein, high in fiber, and provide sustained energy, all with a delicious taste in a completely novel form factor that we believe is one of a kind. This ratio of protein, fiber and other nutrients in an ice cream bar format is completely novel and represents what we believe to be a pioneering new concept in frozen foods.
"Smart for Life has created a totally new and unique type of gourmet, high protein, high fiber ice cream bar that is healthy, nutritious and, most of all, delicious," said Darren Minton, Smart for Life's Chief Executive Officer. "Our specialist formulations team, led by Dr. Sass, a bariatric specialist with over 15 years of experience in healthy foods, has developed a truly differentiated product category for our Company that we believe people are going to love. The all natural blend of functional ingredients in Smart for Life's high protein ice cream products provide sustained energy throughout the day, preventing energy crashes and helping to maintain focus and productivity."
Initial flavors include Vanilla-Chocolate, Cookies & Cream, and Strawberry, with additional varieties expected to join the line-up after feedback is received from launch testing in select markets.
"The R&D process for the creation of our new, proprietary line of innovative, high protein ice cream bars has been an intensive, multi-year labor of love," said Dr. Sass. Our functional ice cream bars are packed with high-quality protein, fiber, and essential nutrients that support muscle recovery, health management, and healthy digestion, while helping to regulate blood sugar levels, thereby reducing the risk of insulin resistance and type 2 diabetes. Not only can our new high protein ice cream bars potentially improve overall health and wellbeing, but they also taste fantastic! High protein ice cream is a perfect addition to our top-quality product line of nutritious cookies, supplements, shakes, bars and soups – all of which are designed to help our customers enjoy discovering the healthiest version of themselves."
According to Fortune Business Insights, the global ice cream market is projected to grow from $73.61 billion in 2022 to $104.96 billion by 2029, at a CAGR of 5.20%. Additionally, the rise of health consciousness amongst consumers is also expected to fuel the demand for premium ice creams in the upcoming years.
"Smart for Life believes the demand for this innovative new line of functional and delicious ice cream products will be significant, especially after consumers try them for the first time," concluded Mr. Minton.  "We plan to launch a variety of flavors in local markets and look forward to providing exciting updates in the near future."
Smart for Life's high protein ice cream bars will be available in select markets and online. To learn more about Smart for Life's innovative new line of protein-based ice cream products please visit: www.icecreamprotein.com.
About Smart for Life, Inc.
Smart for Life, Inc. (Nasdaq: SMFL) is engaged in the development, marketing, manufacturing, acquisition, operation and sale of a broad spectrum of nutritional and related products with an emphasis on health and wellness. Structured as a publicly held global holding company, the Company is executing a Buy-and-Build strategy with serial accretive acquisitions creating a vertically integrated company with an objective of aggregating companies generating a minimum of $300 million in revenues by the fourth quarter of 2026. To drive growth and earnings, Smart for Life is developing proprietary products as well as acquiring other profitable companies, encompassing brands, manufacturing and distribution channels. The Company currently operates five subsidiaries including Doctors Scientific Organica, Nexus Offers, Bonne Santé Natural Manufacturing, GSP Nutrition and Ceautamed Worldwide. For more information about Smart for Life, please visit: www.smartforlifecorp.com.
The company's previously issued letter to shareholders is available at: www.smartforlifecorp.com/2023/01/12/smart-for-life-ceo-issues-year-end-letter-to-shareholders/.
The Company recently released a video report from A.J. Cervantes, Jr., the Company's Chairman.   That report can be accessed here: https://smartforlifecorp.com/2023/04/02/chairmans-video-report/
Investor material and a Fact Sheet with additional information about Smart for Life is available at: www.smartforlifecorp.com/investor-center.
Forward-Looking Statements
This press release may contain information about our views of future expectations, plans and prospects that constitute forward-looking statements. All forward-looking statements are based on management's beliefs, assumptions and expectations of Smart for Life's future economic performance, taking into account the information currently available to it. These statements are not statements of historical fact. Although Smart for Life believes the expectations reflected in such forward-looking statements are based on reasonable assumptions, it can give no assurance that its expectations will be attained. Smart for Life does not undertake any duty to update any statements contained herein (including any forward-looking statements), except as required by law. No assurances can be made that Smart for Life will successfully acquire its acquisition targets. Forward-looking statements are subject to a number of factors, risks and uncertainties, some of which are not currently known to us, that may cause Smart for Life's actual results, performance or financial condition to be materially different from the expectations of future results, performance or financial position. Actual results may differ materially from the expectations discussed in forward-looking statements. Factors that could cause actual results to differ materially from expectations include general industry considerations, regulatory changes, changes in local or national economic conditions and other risks set forth in "Risk Factors" included in our filings with the Securities and Exchange Commission.
Disclaimer
The information provided in this press release is intended for general knowledge only and is not a substitute for professional medical advice or treatment for specific medical conditions. Always seek the advice of your physician or other qualified health care provider with any questions you may have regarding a medical condition. This information is not intended to diagnose, treat, cure or prevent any disease.
Investor Relations Contact
Crescendo Communications, LLC
Tel: (212) 671-1021
SMFL@crescendo-ir.com