INTRODUCING SMART FOR LIFE
Smart for Life, Inc. is a vertically integrated, global holding company engaged in the development, marketing, manufacturing, acquisition, operation, and sale of a broad spectrum of nutritional and related products with an emphasis on health and wellness.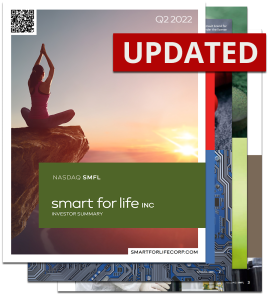 Q2 2022 Investor Summary
To Good Health!
Smart for Life's core mission is to address the inherent human desire for good health and vibrant life for today's highly engaged consumers, utilizing the best standards available today. We are a seasoned team positioned to capitalize on various trends in the nutraceutical industry, with a key focus on the latest insights and trends.
Keep Up with Smart for Life!

Subscribe to our newsletter.